Well over 100 years old - and probably more like 150 years old - this recipe is for classic Southern dumplings that you can either roll or drop.
This page contains affiliate links. As an Amazon Associate, I earn a small commission from qualifying purchases when you purchase using the links on this page. It doesn't increase the price of the items for you, and it helps me cover the costs of bringing great recipes to you.
A Super-old Family Recipe
My great-grandmother Rosa Bessie (Keeton) Bugg was born in Scott County, Mississippi in 1879. This recipe for Southern rolled (or drop) dumplings is her recipe, which her daughter Edra (Bugg) Thames taught my mom. And my mom taught me. But as far as that goes, Bessie's mom - Mary Elizabeth (Flanagan) Keeton (born 1853 Rankin Co MS) - probably taught Bessie this recipe...and so on further back more generations into history.
Baking powder, which is one of the ingredients, was invented in 1856. Yeast was used as a leavening agent prior to that, or else leavening was left out altogether.
Grandma Bugg (as her grandchildren and great-grandchildren called her) made this dumpling recipe with lard, I'm certain, because vegetable shortening wasn't introduced until 1911. But eventually the recipe morphed to use shortening instead of lard. Someday I'll buy some lard and try making the recipe with it, see if it makes a difference.
I'm also certain Great-Grandma and Grandma never measured all the ingredients out. They knew the recipe so well and made dumplings so often, they simply had a feel for the ingredient measurements - like making biscuits. But Grandma Edra took the time to write the recipe out at some point, so that's what I'm sharing here.
Rolled dumplings or drop dumplings - same ingredients
Southern rolled or drop dumplings use the same ingredients. You can roll out and cut the dough into squares. Or drop dough into the broth by teaspoons or tablespoons (based on the size dumpling you want).
One thing you must not do...
Grandma's written recipe is very specific: Once you add the dumplings to the broth, do not lift the lid. I can't quite fathom why, except probably you don't want to let the heat out. I always follow her instructions (except this one time so I could take a picture of the dumplings cooking).
More Southern and Cajun/Creole recipes to try...
If you're a fan of Southern food and these Southern Rolled Dumplings, try Southern Salmon Patties next. Or for a really easy slow cooker meal, Mississippi Chicken will warm your soul and make your tastebuds sing!
Like these Southern Rolled Dumplings? Try these recipes, too
📖 Recipe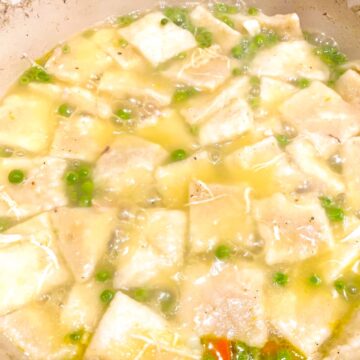 Great-Grandma Bessie's Southern Rolled (or Drop) Dumplings
Certainly this recipe is at least 150 years old, and it has stood the test of time through several generations
Print
Rate and Comment
Servings:
30
rolled dumplings
Ingredients
1

cup

all-purpose flour

1½

teaspoons

baking powder

1½

teaspoons

salt

1

tablespoon

vegetable shortening

i.e., Crisco shortening

½

cup

milk
Instructions
Sift together the flour, baking powder and salt into a medium mixing bowl.

Using a fork or pastry cutter, cut the shortening into the dough until the mixture results in a grainy texture (no chunks of flour-covered shortening). For me, this takes about 3 minutes with a fork.

Add the milk and stir until well-blended and all the flour is moistened.

Turn the dough out onto a lightly floured surface and knead lightly, only about a minute. If the dough is too wet and sticky, add additional flour a little at a time. The goal is to add just enough so that it doesn't stick to the rolling surface or the rolling pin. (Note: the humidity level in the air will play a big part in how much flour you need to add, but you shouldn't need to add too much - no more than a tablespoon or two.)

Roll the dough out to about ¼-inch thick or just a little less (I opt for a little less, knowing they'll plump up as they boil and will turn out the way Grandma made them). Using a sharp knife, cut the dough into small squares about 1½ inches in size. Don't worry about being perfect with the cutting (I know Grandma wasn't). If you opt for drop dumplings, do not roll the dough out. Simply use a teaspoon or tablespoon to portion the dumplings.

Drop enough of the dumplings into boiling broth to cover the surface of the pot. Give it a quick stir and drop in more dumplings. Stir again if needed in order to add more. The point of stirring is so that the dumplings don't stick together.

After all the dumplings are in the pot, cover and continue boiling for 10-15 minutes. Grandma says do not lift the lid while they're cooking. The amount of cooking time needed depends on whether you rolled the dough or made drop dumplings; large drop dumplings should cook for a good 15 minutes.
Nutrition
Calories:
21
kcal
|
Carbohydrates:
3
g
|
Protein:
1
g
|
Fat:
1
g
|
Saturated Fat:
0.2
g
|
Polyunsaturated Fat:
0.1
g
|
Monounsaturated Fat:
0.2
g
|
Trans Fat:
0.1
g
|
Cholesterol:
0.5
mg
|
Sodium:
139
mg
|
Potassium:
11
mg
|
Fiber:
0.1
g
|
Sugar:
0.2
g
|
Vitamin A:
7
IU
|
Calcium:
17
mg
|
Iron:
0.2
mg