If you've ever traveled around the northern Mississippi and stopped at a diner, chances are you noticed slugburgers on the menu. No, they're not made with slimy slugs, either, so have no fear. Join me in making the original version of the Slugburger here!
This page contains affiliate links. As an Amazon Associate, I earn a small commission from qualifying purchases when you purchase using the links on this page. It doesn't increase the price of the items for you, and it helps me cover the costs of bringing great recipes to you.
Nowadays the slugburger comes in many varieties, but this particular recipe goes back to the original recipe that is generally credited to John Weeks, who brought it to Corinth, Mississippi from Chicago well over 100 years ago. I'm thinking this is our John with his wife Laura and five daughters on the 1920 census, in Corinth, since he told the census man his occupation is Proprietor of a Lunch Room.
A really great side for these burgers would be Southern Fried Okra!
Slugburger origins
Apparently Weeks was the first to serve up the slugburger in 1917, but he called it the Weeksburger. And, they only cost a nickel. Back then, a "slug" was a round nickel-sized piece of metal that you could use to cheat a vending machine. Hence, the name Slugburger.
With wartime rations being what they were, folks had to stretch the budget and make their food go as far as possible. So John mixed his beef (not pork) with potato flour and potato flakes and deep fried them in lard.
Well, I'm not going so far as to fry them in lard, but I did follow his basic plan and used potato flakes as the extender. If you're going to try making them, I suggest using 80% lean ground beef, to keep the meat moist.
I stuck to keeping it simple, like John. I do like to season mine with a little salt and pepper, too, though I don't know if Weeks did that as well.
And the original preferred way to eat them was on a steamed bun with onion, pickles and mustard. No cheese.
The popularity of this burger has persisted. Today there's even the Slugburger Festival, and there're all kinds of recipes out there for slugburgers with lots of added ingredients and toppings. Some even make them from pork instead of beef. But if you want to try the original to see what it was like, this is the recipe you should shoot for.
How to make the original Slugburger - aka Weeksburger
Ingredients
Ground beef, 75-80% lean
Potato flakes and/or potato flour
Salt and pepper
Oil to deep fry the burgers
Instructions
In a large bowl, combine the beef, potato flakes and potato flour and salt and pepper. Mix thoroughly.
Form into patties.
Deep fry until cooked and crispy on the outside.
Serve hot with the traditional fixings of bun, mustard, dill pickles and onion.
That's it!
Combine the ingredients thoroughly. Working it by hand is the most effective.
Form the mixture into patties. One pound of meat will make four nice-sized patties or three really big ones.
Deep fry in enough oil to cover the patties, until cooked through and a nice crust forms on the outside.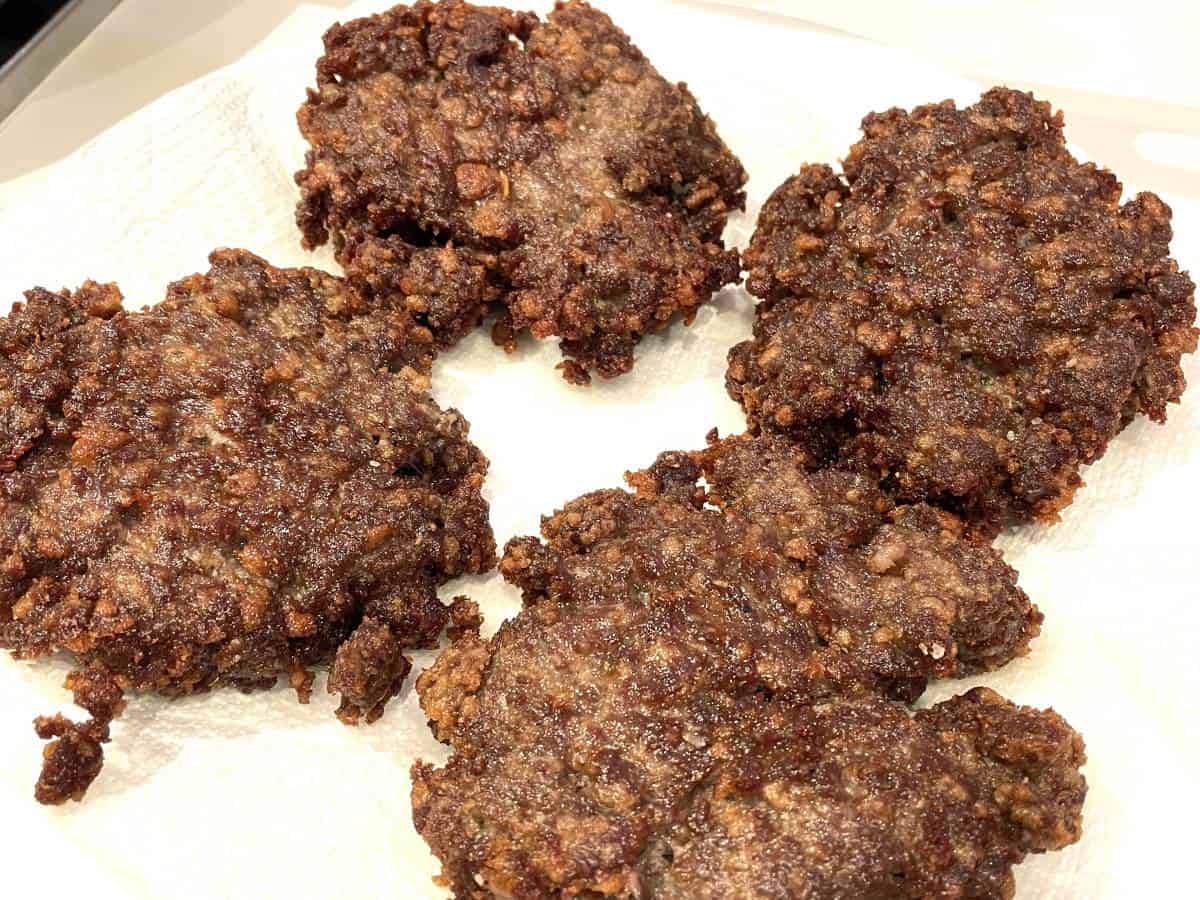 Drain briefly on paper towels and serve hot with the traditional toppings of a steamed bun (not toasted), mustard, dill pickles and onion.
More Southern Cooking
📖 Recipe
Slugburger - The Original Version
First introduced about 1917 by John Weeks in Corinth, Mississippi - this is how the Slugburger was originally prepared.
Print
Pin
Rate and Comment
Ingredients
1

pound

ground beef

75-80% lean

1

cup

potato flakes

or combination potato flour and potato flakes combined

salt and pepper

to taste

cooking oil

enough to cover the patties for frying
Instructions
Begin heating oil on medium heat to 350℉

Combine the ground beef, potato flakes and salt and pepper in a bowl. Mix thoroughly to evenly distribute the potato flakes into the beef.

Form the mixture into 3 or 4 patties. They don't need to be perfect and they don't need to be super thick - remember, we're talking 1917 here.

Once the oil reaches 350℉, carefully add the patties to the oil and fry for about 3 minutes on each side. You want to cook the meat through and form a light crust on the outside.

Remove from the oil and drain on paper towels just a few minutes. Serve hot and to be authentic, serve on a steamed bun with the original fixings of mustard, dill pickle slices and onion.
Nutrition
Calories:
372
kcal
|
Carbohydrates:
12
g
|
Protein:
21
g
|
Fat:
26
g
|
Saturated Fat:
9
g
|
Polyunsaturated Fat:
2
g
|
Monounsaturated Fat:
12
g
|
Trans Fat:
1
g
|
Cholesterol:
81
mg
|
Sodium:
92
mg
|
Potassium:
471
mg
|
Fiber:
1
g
|
Sugar:
1
g
|
Vitamin A:
2
IU
|
Vitamin C:
12
mg
|
Calcium:
24
mg
|
Iron:
2
mg